Welcome to our Salt Chamber Therapy page at Hyperbaric Health & Spa, where relaxation and rejuvenation come together in a tranquil oasis. Crafted with Himalayan salt rocks and bricks, our salt chamber provides a soothing environment that promotes healing and relaxation. During each 45-minute session, you'll experience the wonders of salt therapy, surrounded by calming music and a serene ambiance. The chamber accommodates up to 8 guests and is equipped with zero gravity chairs and tables for your utmost comfort.
The salt chamber is a microclimate filled with a gentle salt aerosol, replicating the healing properties of natural salt caves. This aerosol, combined with negatively charged oxygen ions, creates an invigorating environment that promotes respiratory health and enhances lung function. As you breathe in the pure salt-infused air, you'll feel the cleansing effects on your respiratory system. The benefits of our salt chamber sessions are extensive, from alleviating respiratory conditions like asthma and allergies to improving skin conditions such as eczema and psoriasis due to its natural anti-inflammatory and antibacterial properties. The release of negative ions fosters improved mood, reduced stress, and an overall sense of calm.
Enhancing the ambiance, a salt water fall inside the chamber adds a touch of serenity to the space, complementing the therapeutic benefits of salt therapy. It's an immersive experience that nurtures both body and mind. Regular visits are recommended to fully embrace the advantages of salt chamber therapy, and our staff is here to guide you based on your unique needs and goals.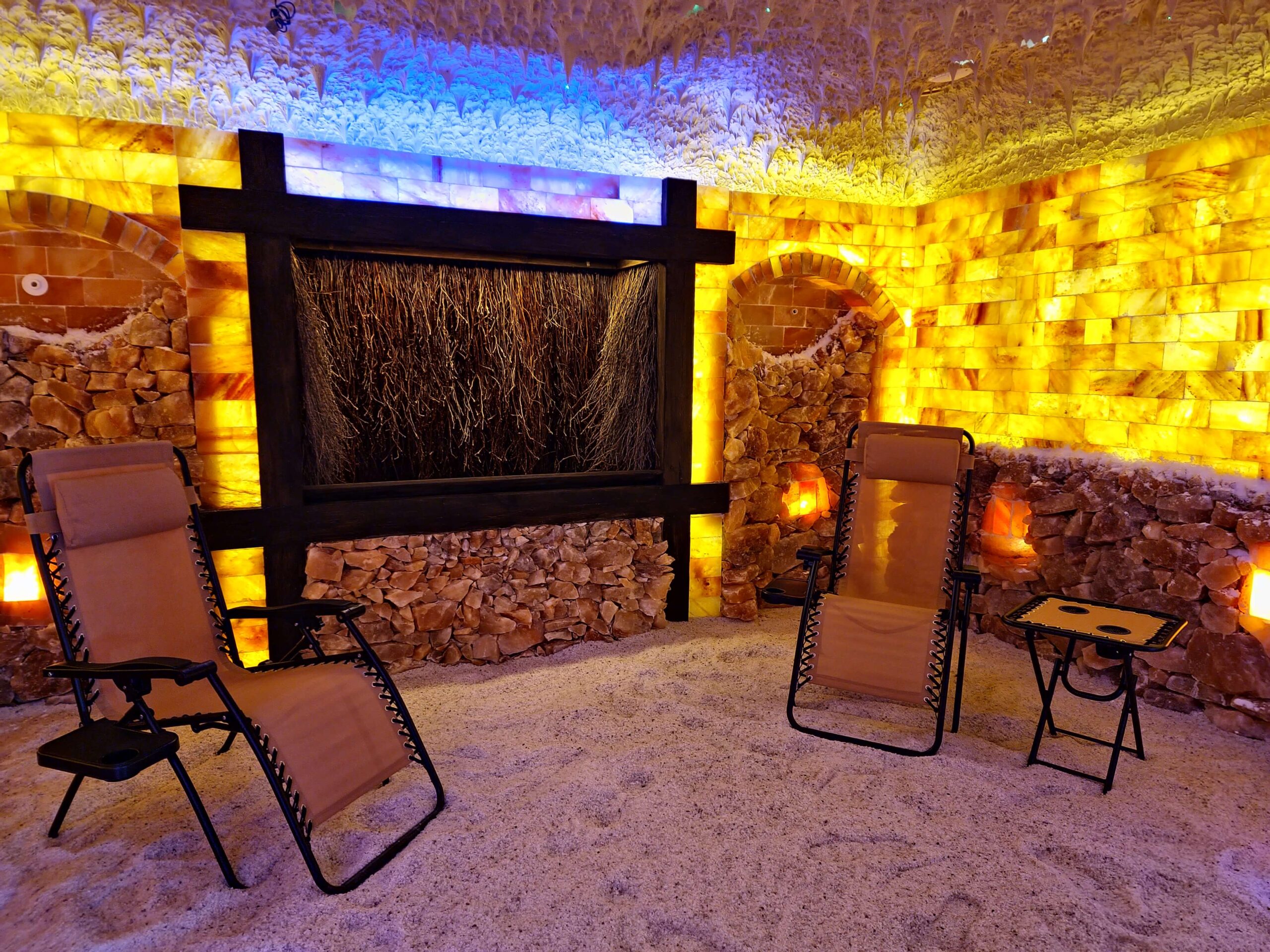 At Hyperbaric Health & Spa, inclusivity is essential. Our salt chamber is designed to accommodate individuals with disabilities, including wheelchair access. We've prioritized accessibility to ensure that everyone can benefit from the healing properties of salt therapy. Our dedicated staff is trained to provide support and assistance, ensuring a seamless and enjoyable experience for all guests. Your well-being is our focus, and we invite you to join us on a journey of healing and renewal in our exceptional salt chamber.
I am writing this on behalf of Kristi Olson who says her experience of the salt room was relaxing, cozy and pleasant. The oxygen chamber, she says is relaxing and she has experienced healing of skin wounds, it improved her eyesight and her energy level has also improved.
Terry Regenwetter
2023-08-08
AFTER 20 SESSIONS: I have just completed my 20 sessions at Hyperbaric Health & Spa. I started with the intention to help my crushed finger heal faster, which it has definitely been successful. The bonus surprise was the healing of a chronic shoulder injury that has never healed that I have had issues with for several years. I am so impressed, I am now going to continue with a second package of 20 sessions. FIRST IMPRESSION: Very professional staff. So kind and patient with the elderly clients to ensure their comfort and care accessing the chamber room. Beautiful building and setting throughout. Very efficient scheduling tool for choosing times on their calendar.
Great service; I have been there a few sessions that help me sleep better
Carol Patterson
2023-07-29
I first tried Hyperbaric Health & Spa after hearing about it on 630 Ched. I bought an introductory package and I was so impressed with the results that I bought a 20 session package. I feel that it has really helped with my arthritis and in my recovery from surgery that I had at the beginning of July. I plan to get another package of 20 visits so I can go while I am having radiation in August.
Kamil Piwowarczyk
2023-07-27
Hyperbaric health and spa is an excellent place to go to if you are in need of some healing and relaxing. This spa gives you both in a very unique way. I have tried the oxygen cabin, salt chamber and the red light therapy bed. I have noticed positive changes in my mental and physical health since i have been going. I recommend this establishment to anyone who is looking to make some positive changes in their lives.
Incredibly helpful! I sustained a spinal cord injury about a year and a half ago. Along with countless hours of physical therapy, this hyperbaric chamber has aided the speed of my healing. It has boosted sensation and motion, after consecutive sessions. I would highly recommend this therapy!
I have been twice and am encouraged! Can't wait to continue the journey! My experience with Hyperbaric Health & Spa so far has been 5 ⭐️
Stacey Keltika
2023-07-07
Exceptional staff, spotlessly clean, wonderful environment! Online booking app is easy and convenient! I am definitely going to purchase a multi session pass!
harvey panesar
2023-07-03
Absolutely amazing! Totally relaxed and comfortable atmosphere. It's literally like relaxing in a lounge. Highly highly recommend it!
We understand that every individual's wellness goals are unique, and we're committed to providing you with the information you need to make informed decisions. Feel free to reach out to us, and let's start a conversation that leads you to a healthier, more vibrant you.